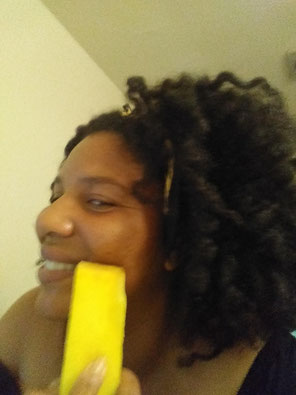 I've always given out freebie recipes to those in my presence... like, have you used this fruit for this?  Have you taken a bath in this?  Do you exfoliate with this?
Well, now the time has come!  DIY recipes on a blog :) Alrighty then!  10 years in the making, and as always... right on time!
For this DIY you will need:
1 pineapple core
1 teaspoon honey of your choice
1 teaspoon ground passion fruit  
Mortar & Pestle or small blender
So, we all know the numerous benefits of pineapple right?  They are ancient medicine... known to assist the body in numerous ways: stomach health to arthritis.  
Pineapples are rich in Vitamins C and A, also an important enzyme Bromelain.  These help the skin fight against:
Acne:  Reduces inflammation, minimizes redness and irritation, lessens lesions, eruptions and blackheads, reduces dark spots
Aging: Promotes collagen production, increases skin firmness and flexibility, reduces fine line and wrinkles, assists with strengthening the deep layers of skin
Complexion:  Aides in shedding old skin, promotes glowing skin, increases brighter/lighter skin tones, increases blood flow aiding in plumper appearance
Raw Honey nourishes the connective tissues and increases skin hydration ( I use an African Black Honey I've used for years, but the darker the honey the greater the benefits :)
Passionfruit powder is rich in Vitamin A and assists in the glow!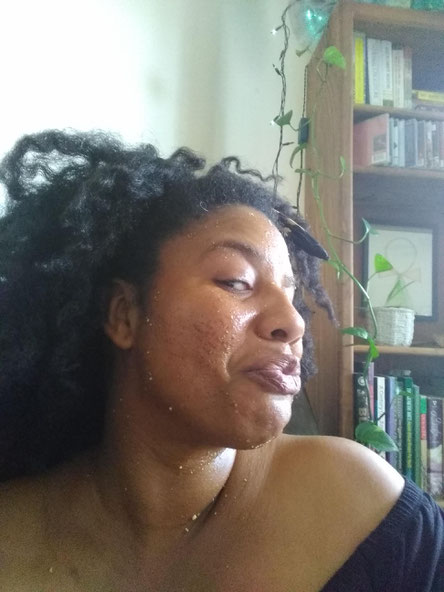 To keep it 100, you can get great benefits by simply rubbing the pineapple core directly upon the skin.  Simply rub in circular motions until skin is completely coated in sweet deliciousness!  The rough texture of the core will gently activate the exfoliation process.  Allow to dry on the skin, rinse with lukewarm water, pat dry and follow with moisturizer.
To make this Pineapple Mask:
Grind passion fruit in mortal & pestle until a fine powder.  A coffee grinder works great and takes half the time!
Add a thumb size piece of pineapple, and a teaspoon each of honey and passion fruit powder to mortal and pestle or small blender.  Combine.
Add to the face.  It will be messy.  That's the fun of it... playing!  Add to face, neck and decollete...even to the breasts, they need firming and plumping too!
I allow to penetrate until completely dry and then some... about 30 minutes.  I rinse, apply rose hydrosol and 3 drops of Maracuja.  Then go about my day smelling DIVINE!  
Enjoy!