Hey Skinfolk!
Just sticking my head out for a quick hello!  Been awhile, yes???  Well 10 years actually... It was LITERALLY just the other day, and yet somehow (???) it has been 10 whole, entire years!!!  Skinfolk was birthed in 2008 after Common Scents, which came after Scentual Divas.  Soooo....
Talk about an awesome, crazy, hectic, ridiculous, dreamy, hilarious, teary, nauseous ride :) 
So really... Picture it... In one autumn day I was inspired to make these 3 Super Butters: 
Califia
Superfruit 
Eden
Its crazy to think in hindsight, but I see myself so sincere and pure of heart just a mixin' and stirrin' until it was just right I tell ya!  Really wanting to share these sweet gems I'd found, sourced from some of the poorest, yet richest places on Earth.  Thought that I could save the world with fair-trade buying and ethical business practices! LOL... youthful thinking :)
But, I just KNEW these were awesome!!!  So rich, creamy and powerful... smelling of heaven! Or, so I think :)  Shoved them down everyone's throat, I mean shared them with friends, family and even my poor co-workers!  Soon, even some new folks via Etsy, Farmer's Markets and Craft Shows…eventually a storefront, yes yes!
SheaBassu & Goddess Dream Cream came a bit later, but soon became best sellers too!
So, as many of you have noticed, I have been Missing In Action.  Just poof, gone!  Yes, guilty as charged.  Life happened.  And I had no more love left.  I just didn't want to fake it either.
But, lately these same 3 butters have been CALLING me.  Like for real.  I swear in my head like children... over and over, "so, are you just never gonna make us again... like, for real?" 
Well, the butters and I have reached a compromise.  We gonna let them go out with a bang... celebrate them the rest of the year long!  And then, they rest.  And I begin crafting what I've grown fond of, my new loves.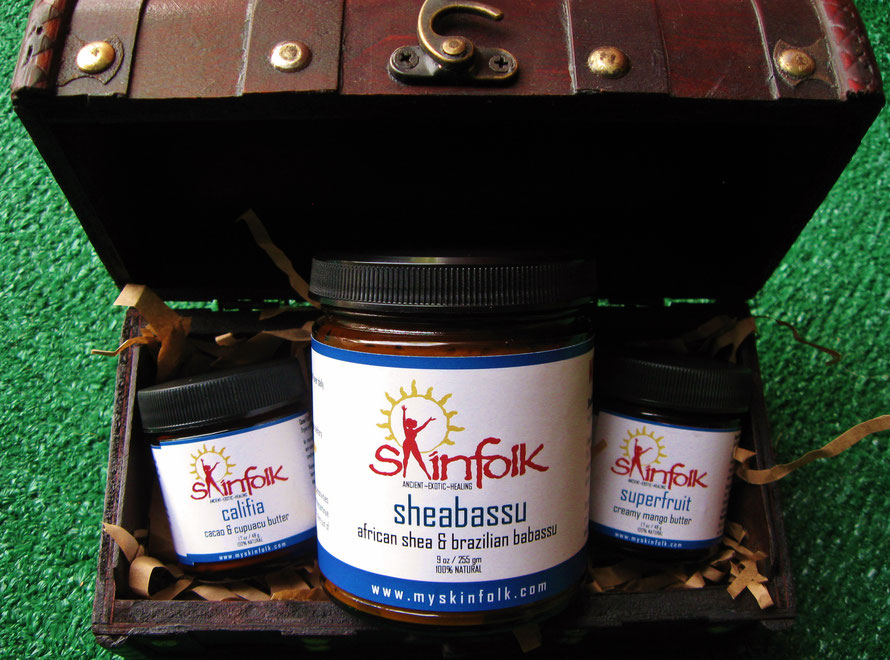 Check me out on Instagram: Skinfolk13.  I will be deleting my Facebook page, so please stay in touch via the new blog on the website or email: tisha@myskinfolk.com.
Check out the slideshow below, see if you recognize some of the products of the past... It was amazing to go through all these photos, laugh at all the shadiness, and proud of all the work.  Do you all remember these??? Like seriously, which were your favorites and why?  I'd love the feedback!
I still can't believe I made all this, CRAZY!  Life is but a dream....
Many thanks and much LOVE,
Tisha